NPs Clear One Legislative Hurdle – ACTION Needed Today
Posted almost 3 years ago by Brett Cowden
Thank you to those who joined NPAA since our last email. Every new member is important, and we hope more of you will sign up as well. The low $100 membership fee will go a long way to protect the nurse practitioner profession in Alabama.
Also, we have some good news to report! We cleared the first hurdle with the senate version of our legislation to alter the Alabama Board of Nursing, easily making it out of subcommittee.
Next up is the full Senate Health & Human Services committee. At the end of this email, you will find a list of the senators on that committee along with their phone numbers. Call them so they can hear from you and know how much support there is for this bill – SB234.
As a follow up to our last email, we wanted to give you more details on what the bill actually does.
First, it will reallocate the eight seats reserved for professional nurses on the Alabama Board of Nursing (ABN), specifically requiring that two of the seats be filled by Certified Registered Nurse Practitioners.
Second, the bill will create a new nominations committee for the ABN. The nominations committee will be composed of:
2 members from the Nurse Practitioner Alliance of Alabama 

2 members from the Alabama Association of Nurse Anesthetists 

2 members from the Alabama State Nurses Association 

1 member from the Alabama Organization of Nurse Executives 

1 member from the Birmingham Black Nurses Association
In addition, any individual nurse who meets the qualifications and is interested in a position on the board may submit his or her name for consideration to the Nominations Committee for the ABN.
Third, the bill will clarify the existing rule to explicitly state that Advanced Practice Nurses and Physicians Assistants can write orders.
We trust that you can see how important these changes are to our profession. Won't you join NPAA now and help us in this? Without growing the ranks of our membership, this important effort might only be a flash in the pan. Other advanced practice nursing associations are powerful because they have large memberships. If we want to give nurse practitioners a long-term seat at the table, we have to grow NPAA.
If you are not sure who your senator is, click this link to look it up.
Make sure to call these senators by Wednesday at 10:00am to let them know you support SB234.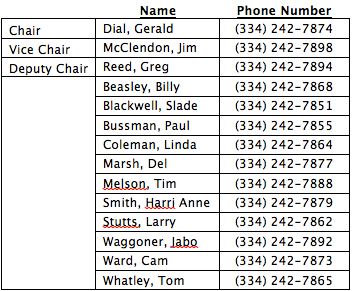 Thanks again for your support, and hopefully for your membership in NPAA. We will send you an update after SB234 passes the senate committee.
Sincerely,
Susan Alexander, DNP, ANP-BC, ADM-BC
President
D'Ann Wilson Somerall
Vice-President, Membership